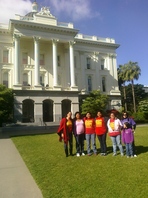 Dear MUA Supporters,
We need your support now as
200,000 Domestic Workers across California are on the brink of winning a historic
campaign for justice and respect
.
Tomorrow marks our first week of a two week fund raising campaign via email and facebook to try to raise $10,0000 to help support leadership opportunities in this campaign for MUA members.
Supporters like Kent L. have donated and you too can help us. We hope Kent's
testimony
will help encourage others to take the time out of their busy schedules to support us now more than ever.
This historic campaign just steps away from the Governor's desk, we must
ensure we have the resources needed to keep fighting. And MUA must continue the
long-term work of developing the community leaders that make a campaign like this
possible.
We need 400 more supporters to donate at least $20-25 to reach our goal in the next 8 days. Will you be one of them?
You can help by: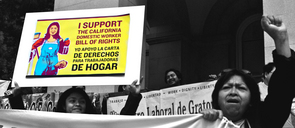 Forwarding our email to your contacts with a personal message asking them
Ensuring at least two friends donate
Recording your own short (less than a minute) video and sending it to us atclaudiagomez@mujeresunidas.net
Helping us bring our campaign to facebook by reposting our messages on your page
Together, we will win dignity and respect for all domestic workers. Thank you!

Mujeres Unidas y Activas
www.mujeresunidas.net
www.cadomesticworkers.org